Despite the slowdown in the NFT market, Bored Ape Yacht Club has managed to hold its own, surpassing CryptoPunks in terms of total sales.
With a sales volume of $2.4 billion, Bored Ape Yacht Club has surpassed most of its competitors, including Mutant Ape Yacht Club (MAYC), Art Blocks, Otherdeed, NBA Top Shot, Azuki, CloneX, VeeFriends, and Moonbirds. More importantly, BAYC removed one of the most successful NFT collections in history, namely CryptoPunks.
Launched in April 2021, the BAYC collection consists of 10,000 unique NFT monkey avatars. Like its competitors, the project had its ups and downs, generating just $37,557 in sales. (141 unique buyers and 176) in his first month. In addition, the average selling price of BAYC NFTs did not exceed $213.39, which is less than 1 ETH.
Since most collections are based on Ethereum, the blockchain has benefited greatly from the NFT boom. In May 2021, Ether, its native token, reached a record high of $4,362, making it one of the best months in its history.
At the same time, Bored Ape Yacht Club also benefited from the enthusiasm of investors, reaching a sales volume of approximately 17 million dollars, an increase of 45,463.5% in 31 days. Unique buyers and total transactions gained 2,417.73% and 5,158.52% respectively compared to April.
In August 2021, while the market was still recovering from a bear cycle that started with Tesla suspending BTC payments and China banning cryptocurrencies, BAYC reached approximately $299 million which is sold. At the time, the project had 1,880 unique buyers and 3,506 transactions, but the average sale price rose to $85,288, a 551% increase from July's $13,091.
The Bored Ape Yacht Club still attracts collectors
In 2022, the Bored Ape Yacht Club will play a key role in the launch of ApeCoin's native token, APE, and the Otherside metaverse.
After Bitcoin (BTC), Ethereum (ETH) and many altcoins hit new all-time highs in November 2021, the bear market hit the entire industry. As a result, global NFT sales fell from $2.82 billion in November to $2.74 billion in December.
In January 2022, the non-fungible token market reached an annual high of $4.6 billion in sales with over one million unique buyers and over 800,000 transactions.
Of that total, 7% ($346 million) came from BAYC NFTs.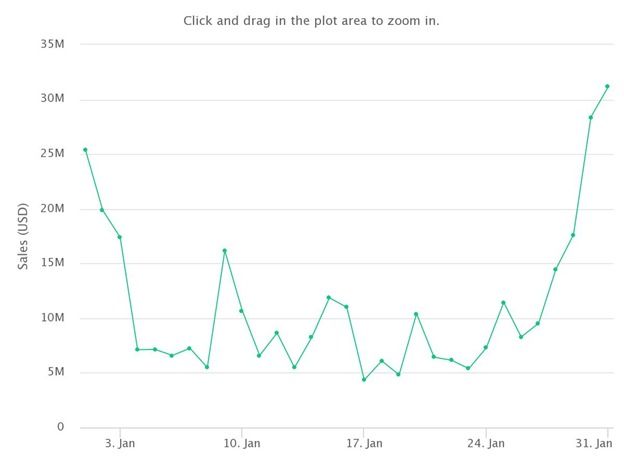 However, since late January, NFT sales have declined and BAYC has not been spared.
In July, the NFT trading volume was $60 million. This month's sales were about $52.7 million as of August 28. With a substantial drop in the number of unique buyers and transactions, August sales are unlikely to exceed the $60 million mark.
BAYC removes CryptoPunks
For a long time, CryptoPunks was the second collection in terms of NFT trading after Axie Infinity. However, after selling more than 2.4 billion NFT, Bored Ape Yacht Club took over from CryptoPunks, with a market value of around $2.36 billion.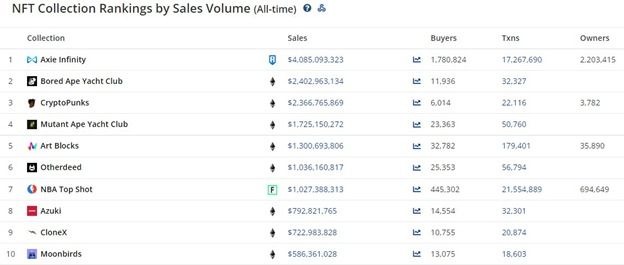 Launched in June 2017 by Larva Labs, CryptoPunks consists of 10,000 NFT avatars. Considered one of the longest running NFT collections on the market, the project generated $2.96 million in sales. (292 unique buyers and 2,079 transactions) in September 2020, more than three years after its launch. In addition, the average selling price reached $1,424, surpassing the $1,000 mark for the first time since its launch.
That said, CryptoPunks sales only started in 2021, reaching an all-time high of $679 million and a low of $6 million. In addition, the number of unique buyers of the collection increased by 316%, while the number of transactions increased by 21% compared to September 2020.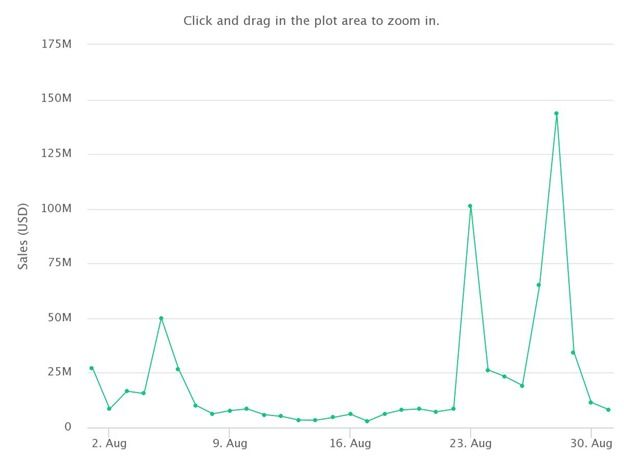 In terms of sales, July, September, October and December 2021 were the best months in the history of CryptoPunks.
By early 2022, CryptoPunks recorded an annual high of $124 million, largely due to renewed interest in non-fungible tokens. However, since January, monthly sales have not exceeded 100 million dollars. In the last four months (from May to August)CryptoPunks recorded a number of less than $50 million.
What is the reason for this decrease in sales volume?
This drop can be explained by a significant decrease in the number of unique buyers, which led to a further decrease in the total number of transactions and the average sale price.
While the number of monthly unique buyers remains below 300, total transactions have not exceeded 600 since December 2021.
The acquisition of the project by Yuga Labs in March should have had a positive effect on the collection, but unfortunately the bear market came to extinguish any hope of growth.
Besides that, market saturation (increasing number of NFT projects) may also explain the sharp decline in monthly sales of CryptoPunks.
For its part, the Bored Ape Yacht Club has done well, thanks mainly to celebrity support, and its key role in the airdrops of ApeCoin and Yuga Labs' Otherside metaverse. All these factors contributed greatly to BAYC's surge in sales during the crypto crash in May, which deepened in June and lasted through July and August.
Disclaimer
All information on our website is published in good faith and for general information purposes only. Any action taken by the reader based on the information found on our website is entirely at their own risk.