For more security and confidentiality in your exchanges on Facebook Messenger, you can activate the "hidden conversation" option since 2016. We explain how to do it and why it is important.
There is no default end-to-end encryption in Facebook Messenger right now. However, this protection is essential to protect a person's private life: it was violently observed in the United States in August 2022: the private discussions of a girl and her mother about an abortion were recovered and now used to carry the young woman across the Atlantic. .
The latest news is that end-to-end encryption by default may come to Messenger in 2023, also for private messages on Instagram. Since then, Facebook has taken a big step towards its "universal instant messaging" project, where we can communicate whether we are on WhatsApp, Messenger and Instagram. Construction is progressing however.
The proof of this is the arrival of the end-to-end encryption option for group chats in early 2022. Pending the systematic activation of the option, you always have the option to request it at any time, just in case. Note that this will start a whole new exchange with your correspondent, next to your current thread.
Here is the procedure to follow to have an exchange on Messenger while benefiting from a very high level of confidentiality.
Enable secure conversations on Messenger
Messenger has included an option in its settings since 2016 that allows two correspondents to make a "secret conversation", that is to say that cannot be read by a third party , Facebook, your Internet access provider or anyone else. The problem is that its existence is not well known and Facebook does not promote it.
Open Messenger on your smartphone;
Go to the conversation of your choice;
Click on the top right of the round pictogram with an "i";
Select "Access secret conversation";
A new window will appear, where you can start a new conversation with your correspondent.
Note that the interface has a different aesthetic, with a dominant black color. This is to remind you that you are in a particular mode of communication. Usually, the appearance of the Messenger gives the blue and gray. The appearance of this safer channel does not affect the old chat: it is still available.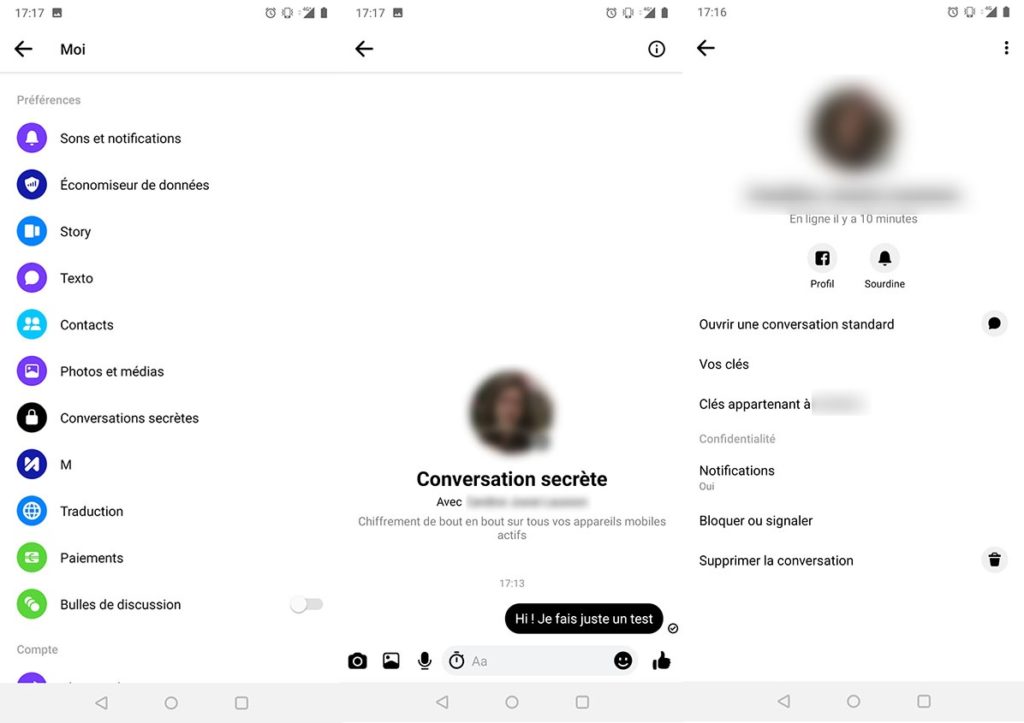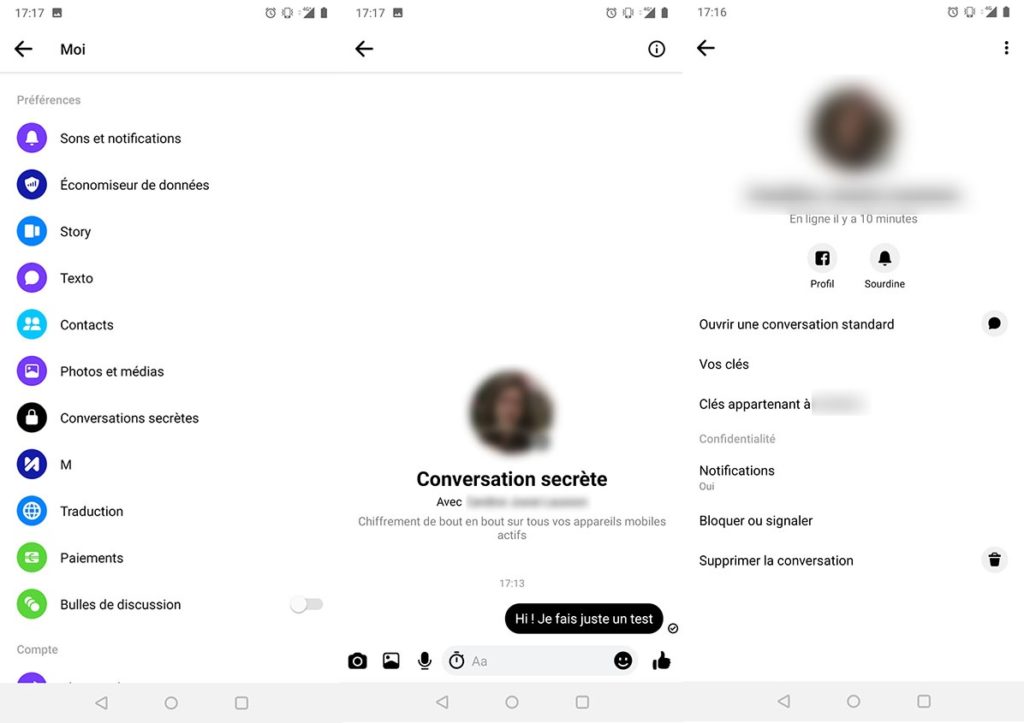 The rest of the functionality is the same. You can write text or attach a file, record a sound file, send emojis, put a "like" or react to a message. Once the contact is made, the secret conversation will appear in the chat list. You can also start an audio or video call.
A secret conversation is represented by a small padlock that appears next to the conversation icon and clues (such as authentication keys) are available. It also allows you to consult the encryption keys belonging to your interlocutor. This makes it possible, for example, to check that two have the correct series of numbers.
" When secret conversations are enabled, they are encrypted end-to-end on all your devices at the same time ", according to Facebook. Clearly, they are secured from the beginning at the departure terminal, before being sent through the Internet. Only when the recipient receives the encrypted message can he open it on his mobile, as long as there is he has a decryption key.
Please note, this is not the same as ephemeral Messenger conversations accessed by swiping into a conversation. These exchanges are simply lost messages, but they are not specifically encrypted.
A famous protocol behind
Security in theory
Certain situations may make this mode not work: if a third party, for example, seizes the smartphone of one of the two journalists and manages to unlock it, he can access the Messenger without a specific password protecting the application.
The hidden conversations option was launched in October 2016. It is based on the open source Signal protocol to encrypt exchanges end-to-end (this is also the case with WhatsApp, a subsidiary of Facebook), notice in Wired, " which has an excellent reputation within the security community ". The only big criticism that can be made: that it is not activated by default.
Its development is managed by Open Whisper Systems, an organization founded by activist Moxie Marlinspike, an expert in cryptography. This same technology is found in Signal secure messaging, instant messaging sponsored by Open Whisper Systems.
A sign of its high quality and the seriousness surrounding its design, whistleblower Edward Snowden had clear words: " use anything [fait] via Open Whisper Systems ".
Even on Facebook? Due to the responsibilities of the social network in relation to privacy and the economic model built on the exploitation of personal data, undoubtedly there will always be doubts. How exactly to ensure that the Signal protocol implementation is correct? Showing a bad deployment however is not provided at the moment.
If this uncertainty is too heavy, of course there is no stopping to switch to another solution. But his correspondent still needs to be there. Messenger can boast of bringing together a community with 1.3 billion users worldwide, according to statistics from September 2017. Who can say the same? Facebook is well aware of this and exploits it.
For more